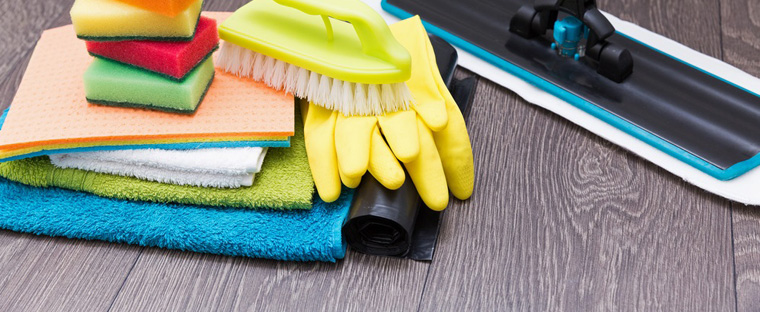 Correctly maintaining laminate flooring will keep your floor looking like new.
Maintaining laminate flooring is very easy. Nevertheless, proper cleaning is absolutely necessary. To keep the exceptional appearance of your flooring for decades, the correct use of cleaning agents, preventative measures and the right cleaning technique is required.
By following the correct care and cleaning instructions, you'll ensure you'll get the maximum life out of your laminate floor. These guidelines are based on years of practical experience.
Keep your flooring looking brand new
The toughness and resilience of Krono Original® laminate flooring keeps it looking great everyday: wear and tear from daily use is rarely seen.
Stains
There's no need to always worry about your floor staining. Even the toughest of spills are easy to remove with just a damp cloth. Red wine, oil, jam, and nail polish are no match for your laminate flooring.
Indentations and scratches
Rarely will furniture leave any indentations behind when it sits atop Krono Original® laminate flooring. To prevent possible damage, furniture should not be dragged or pushed across the surface, rather it should be lifted and put into place. When moving a fridge you should slide it on upturned carpet. It's purely common sense!
Be careful with pianos – the excessive weight from a piano means they shouldn't be placed on a floating floor in the first place, as it may prevent the free movement of the floating floor, causing pinch-points. This may cause your floor to start lifting. Other heavy furniture such as wall shelving is generally OK.
For those with chairs or stools they shove on the laminate flooring they love, we highly recommend affixing 'sliders' (felt pads) to the chair legs. If using castors with office chairs, please use soft rubber ones (labelled W) according to DIN 68131, or use a protective chair mat.
Light sensitivity
Our laminate flooring from Krono Original® is light resistant to level 6 of the Blue Wool Scale according to DIN 13229, meaning that the colouring of your flooring will always remain the same. No real wood flooring can ever achieve this, as it darkens over time.
The right care for your laminate flooring
At the basic level, laminate flooring is extremely durable and easy to care for. Small stains can be removed quickly and easily with just a damp cloth.
In high-traffic areas with lots of dirt, such as entryways, mats will help to protect against abrasions. Small stones brought inside from shoes are the enemy of any type of floor.
Furniture legs should be protected with sliders/felt pads to guard against scratching. Note that you can void your warranty should you not use felt pads.
Office chairs with wheels should use class W, soft castors.
Standing water should be avoided at all costs. Take extra caution in areas with flower pots, vases, and near water faucets.
When cleaning, make sure the cloth is damp, not soaking wet.
If you use any cleaning agents while cleaning the floor, ensure that all residues are removed.
The right cleaner for your Krono Original® laminate flooring
Never use cleaning agents that contain wax or oil. These materials cannot penetrate the surface of the laminate flooring forming a film that attracts dirt like a magnet.
Your laminate flooring supplier will be able to provide specialist laminate flooring cleaning solution, suitable for your floor. Also highly recommended are products such as Ciranova UNICARE X-Matt. This impressive product removes fine scratches and also provides a protective coating to minimise future scratches.
Do you have any questions regarding maintaining laminate flooring?
As always, we welcome any of your questions.